Slate Roof Cleaning In Columbus
We have a very gentle, safe and extremely effective process of cleaning slate Roofs!  NO PRESSURE USED!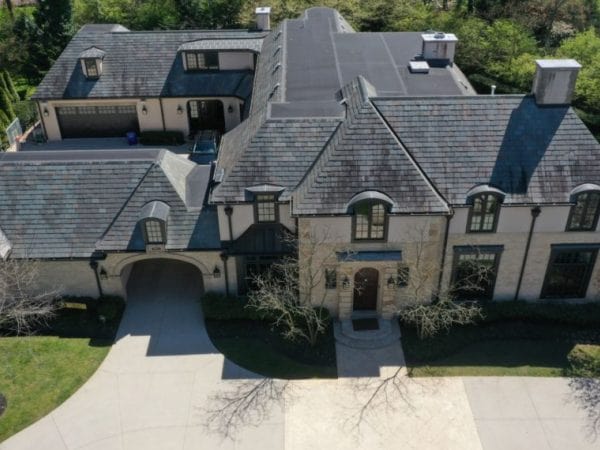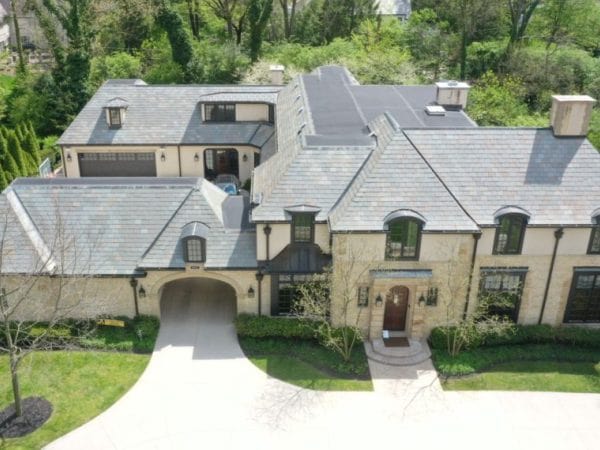 Top Rated Slate Roof Cleaning in Columbus OH
Slate roofs are one of the most beautiful types of roofing materials used on the planet.  It's beauty and functionality has stood the test of time.  Bio infestations and atmospheric pollution shorten the lifespan of a roof.  Keeping your beautiful slate roof clean helps prolong its life and keep it out of a landfill.    The slate roofs that we are called in to restore are usually around the 100 year old mark, covered in black and green gunk and brittle.  We come in, gently clean that bio and pollution staining so that the original beauty of the slate can be seen and appreciated by all who visit.
3-year Streak-Free Guarantee
On All House Washing and Roof Cleaning Services
Benefits For You to enjoy
Big or small...we clean them all!
No matter what the size of the home is that the slate roof is protecting, we approach every roof as if it's our very own.  We take great care to gently clean the slate so that each roof can live on for many years to come.  Our reputation has been built on this approach and will continue to guide us into the future.  You can feel safe and secure knowing that you're in good hands with us taking care of your slate roof.  We have the equipment and experience to do the job right, the first time.  We won't be "practicing" on your roof, either. This is what we do every single day.  It's not a hobby for us…it's our profession!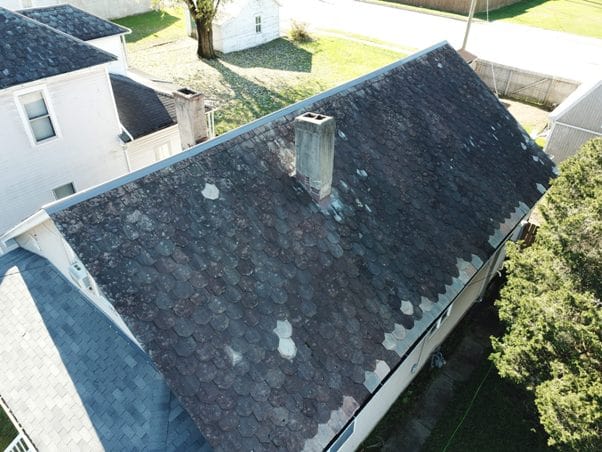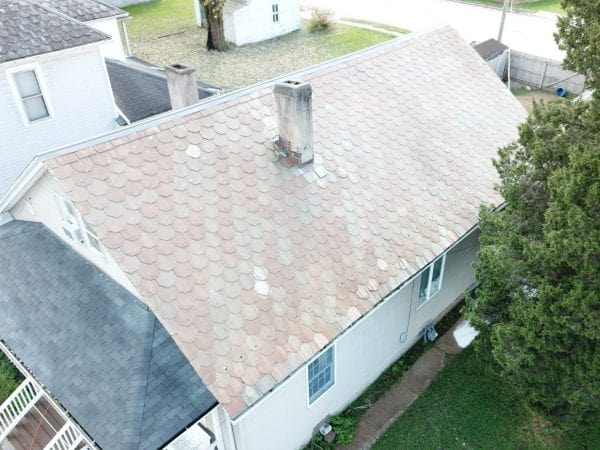 We mainly provide specialty roof cleaning in Columbus, OH and the surrounding areas. We have gone to other cities and states to do projects as well, New Hampshire, Chicago, Michigan, Indiana, West Virginia, Kentucky, and Tennessee to name a few.  It just needs to make sense for all involved. If you have a project outside of our immediate service area, please give us a call to discuss!  (888) 516-0008
View Some of our slate roof cleaning projects
Get Slate Roof Cleaning
In 3 easy steps
What Your Neighbors Have Been Saying
Slate Roof Cleaning in Columbus
Very happy with our results. I was told by many other companies that a Pennsylvania Black Slate roof, of this age and condition could not be cleaned. They were wrong. Dwayne and his crew worked slate roof cleaning wonders on my roof. They made a 117 year old slate roof look like new. Just Amazing.
Slate Roof Cleaning Columbus OH
I recommend Forza's slate roof cleaning without hesitation. They cleaned our 100 yr old slate roof, and made it beautiful. The care and concern of Korey and Sean was impressive. They obviously were invested in the job and having a great result. I would recommend Forza to anyone who asked. Well worth it!
Slate Roof Cleaning Columbus
Overall, a very good slate roof cleaning experience with Forza. They communicated well and got everything done when they said they would. It's always a great feeling when a contractor is honest and punctual. Would definitely recommend Forza Roof Cleaning without hesitation.
Learn About all of Our Specialty Roof Cleaning Services
Frequently Asked Questions
Atmospheric pollution and bio-stains.  It's definitely not pretty but the worst part is that the bio that grows in the micro nooks and crannies holds onto water.  The water expands and contracts, causing the slate to chip and crack.  This leads to costly repairs and early replacement of an expensive roofing system.
That would be an emphatic NO!  High-pressure cleaning is great for a concrete driveway but keep high-pressure away from your home's exterior.  It's just not worth the risk.  After being on a roof and exposed to bio and pollution for 80 years, slate becomes brittle.  Using high-pressure to clean it can shred the slate tiles and destroy your very expensive roof.  This is why our cleaning process is so gentle.  We want to extend the life of a slate roof, not shorten it.
This is an emphatic YES!  Even with our more than 100 years of combined experience cleaning roofs, we're still all human.  In case Murphy's law ever catches up with us, we are covered by liability insurance, vehicle insurance and worker's comp insurance.  Nothing has ever happened, knock on wood, but if something ever does you can rest assured that we have the financial capability to take care of it.
Ready To Restore Your Slate Roof?