Get The Best
Roof Cleaning
In Columbus
We can make your roof look like NEW for a fraction of what it would cost you to replace it!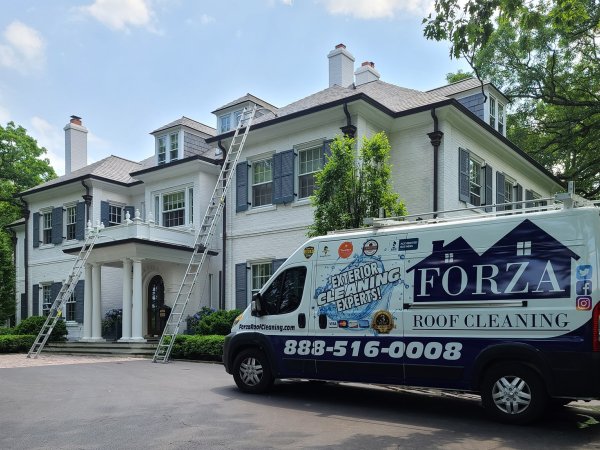 enjoy the peace of mind that comes with having professionals gently clean your roof!
No matter what type of roof material you have…asphalt shingles, cedar shake, metal, slate or tile, we safely and gently clean them all!  Since your roof is one of the most important parts of your home, and the most expensive to replace, doesn't it make sense to entrust the care of it to people who do this every single day?  We put our trust in experts in most everything we do on a daily basis. If, God forbid, we have an issue with our heart, we don't go see just any old doctor, we go see a heart specialist.  An expensive roof is something you should involve a specialist with as well.  That's where we come in, we specialize in cleaning roofs of all types of material.  This is all we do, day in and day out, all year long.   The only thing that can stop us is Mother Nature.  Freezing temps and hard rains will definitely slow us down but if a person is able to golf, then we're out cleaning roofs.  Click on the blue "Get A Free Quote" box below to get a free estimate.  This way you can see firsthand what we can do for your roof…
We are central Ohio's roof cleaning experts!
3-year Streak-Free Guarantee
On All House Washing and Roof Cleaning Services
Benefits For You to enjoy
Get The Best Roof Cleaning in Columbus
Cleaning a roof is an area that you want to leave to the professionals. Mixing heights, ladders and equipment can be hazardous to ones health if not properly trained. Our team of professionals have 136 years of combined experience in cleaning roofs. We are a family owned and operated company that have built a reputation of getting amazing results, one happy client at a time. An expensive-to-replace roof is not something you want to trust to just anybody. Knowing what to do and what not to do are extremely important in order to get the amazing results you deserve. Enjoy the peace of mind that comes with working with the experts. Let's see what we can do for you…
We mainly provide specialty roof cleaning in Columbus, OH and the surrounding areas. We have gone to other cities and states to do projects as well, New Hampshire, Chicago, Michigan, Indiana, West Virginia, Kentucky, and Tennessee to name a few.  It just needs to make sense for all involved. If you have a project outside of our immediate service area, please give us a call to discuss!  (888) 516-0008
View Some of our roof cleaning projects
Get Roof Cleaning In 3 easy steps
What Your Neighbors Have Been Saying
Roof Cleaning in Columbus
Our roof looks incredible! Dwayne and his crew at Forza Roof Cleaning did an amazing job with cleaning our 14-year old cedar shake roof. It looks almost as good as new now! Not to mention our front and back steps look fantastic too! Communication was easy and Dwayne was very responsive. Was overall a great roof cleaning experience and we will definitely use Forza again.
Roof Cleaning Columbus OH
I have an old (60+ years) tile roof, originally red, that had darkened with lots of mold. Dwayne treated the roof with 2 applications and it immediately looked much better. Some whitish spots remained, and Dwayne had his crew come out and treat them again. They have now faded almost completely and the roof has its original color. It looks great! I recommend Forza Roof Cleaning without reservation.
This is a well-run and needed company. Our roof is in the midlife phase. There were two or three mossy areas and some darker streaks throughout the roof. They used a drone to identify the needs of the roof.  The moss is now truly dying out and the roof looks like a new one. Everything was done on time and as planned. Job well done! I am glad to have found Forza Roof Cleaning.
Ready To get your roof looking its best?