Gutter Cleaning In Columbus
Keep your home safe from damage with gutter cleaning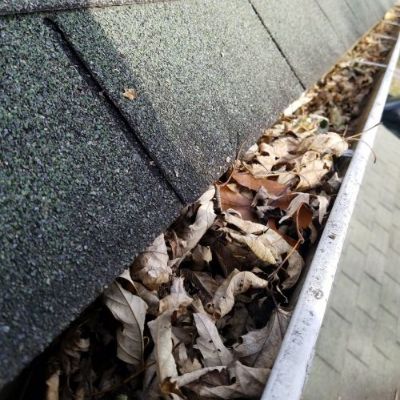 Top Rated Gutter Cleaning Company in Columbus OH
Gutters are designed to guide the rainwater that lands on our roof away from our foundations.  The problem is that when our gutters get full of tree debris, it has a hard time doing its job.  Debris in gutters will hold onto water and if it's in the winter time, the gutters can get weighed down so much with ice that they tear away from the house, causing all kinds of problems.  It's a mess no matter how you look at it.  With our expertise in working on ladders, you can feel confident knowing that the job will get done safely.  
3-year Streak-Free Guarantee
On All House Washing and Roof Cleaning Services
Benefits For You to enjoy
Just like a metal roof, over time, the finish on a gutter will oxidize.  When this happens to a gutter we call it "tiger striping".  Tiger striping are those ugly streaks that won't wash off.  We have a very gentle process for restoring the original look of your gutter. Like all of our other services, we can make them look new for a fraction of what it would cost you to get new gutters.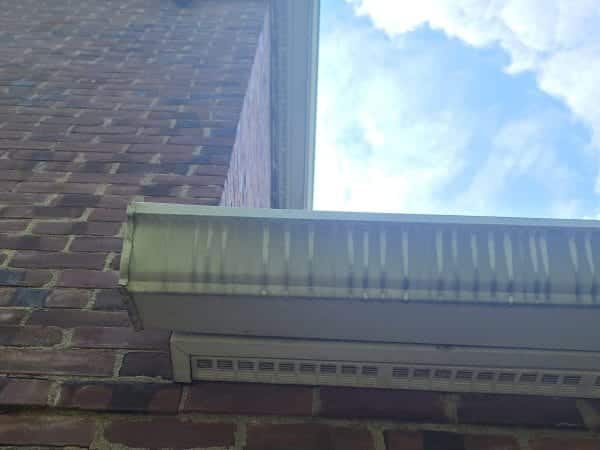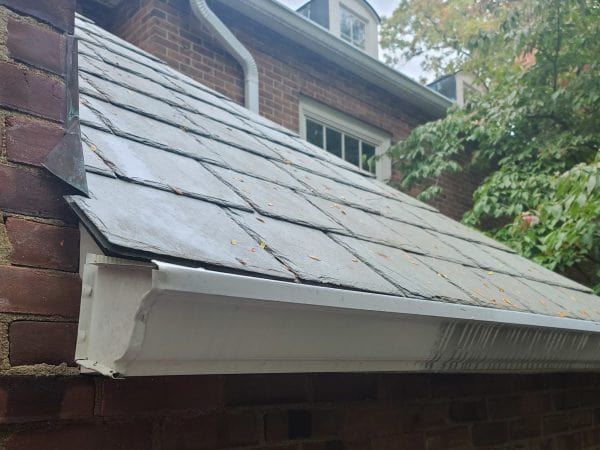 We mainly provide specialty roof cleaning in Columbus, OH and the surrounding areas. We have gone to other cities and states to do projects as well, New Hampshire, Chicago, Michigan, Indiana, West Virginia, Kentucky, and Tennessee to name a few.  It just needs to make sense for all involved. If you have a project outside of our immediate service area, please give us a call to discuss!  (888) 516-0008
What Your Neighbors Have Been Saying
I finally got to the age where I don't mess around with ladders.  My neighbor had some guys over doing something to their house.  A couple guys were up on a ladder.  I wondered over to see what they were up to.  I asked them if they could come over and give me a quote to clean out my gutters before winter set in.  They said sure and once they finished up cleaning the roof on my neighbors house they came over.  They took a look, quoted me a price and knocked it out right then and there.  I know who I'll call next year to clean my gutters.
Gutter Cleaning in Columbus
We had Forza out to clean our roof and they pointed out the little trees that were growing in the gutters under our big maple tree.  I was embarrassed.  I had never noticed it before.  Needless to say, we had them take care of it while they were here and we couldn't be more happy with the results.  Thanks Forza!
Gutter Brightening Columbus OH
Our gutters had this ugly black stuff on them.  We honestly didn't realize that they were originally white gutters.  We had Forza Roof Cleaning over to clean our roof and asked them if there was anything we could do about the gutters.  Korey and Sean took a look and said they could get them looking like new.  After I stopped laughing, I realized they were serious.  I had them do a small section to test it out.  I couldn't believe my eyes.  The stains melted away and the gutters look like they just got installed.  Highly recommend!
Gutter Cleaning In 3 easy steps
Learn About all of Our Exterior Cleaning Services
Frequently Asked Questions
Tree debris in your gutters wreak havoc on its ability to do it's job.  They are designed to move rainwater away from the foundation.  Without gutters, rain would saturate the ground around your home.  This would cause a lot of problems for the foundation of your home.  Keeping your gutters cleaned is a very inexpensive form of preventative maintenance. 
The amount of trees growing around your home will determine how often you'll need to clean out your gutters.  We recommend at least once a year but often times once in the spring and once in the fall is pretty typical for our clients.
Most likely it's either some sort of bio or oxidation…or both.  Regardless, depending on what you're dealing with, we have a solution to the problem.  We can get the surface of your gutter looking like it was just installed.
Ready To get those gutters cleaned?