Metal Roof Cleaning In Columbus
We have a very gentle, safe and effective cleaning process that won't damage your metal roof!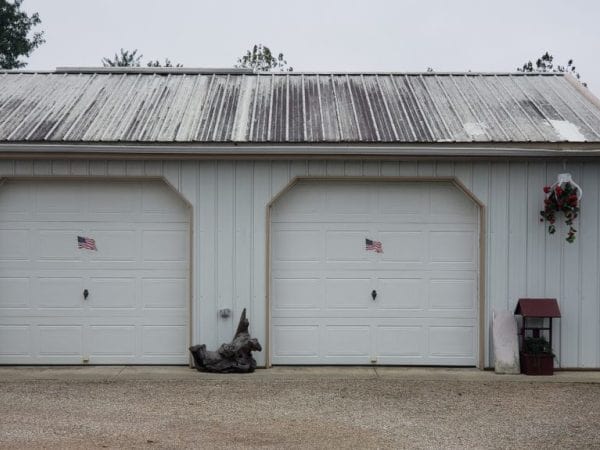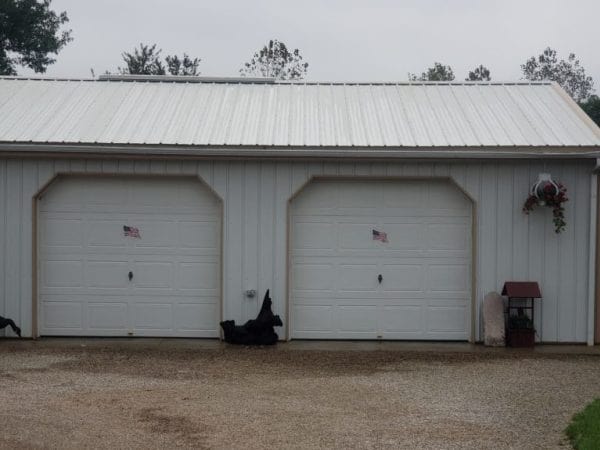 Top Rated Metal Roof Cleaning in Columbus OH
Metal roofs require the right knowledge and experience to clean safely and effectively.  This is definitely a roof you want to leave for the professionals who have the proper knowledge and safety equipment to handle such a project.  Metal, water, ladders, and heights make for a dangerous environment.  It's just not worth the risk.  Leave this one to us.  We have all the knowledge and safety gear to clean a metal roof the proper way.  Our goal at the end of the day is to make our clients happy and go home to our families in one piece.  You can rest assured that we approach every job with the greatest care.  See how we can help you…
3-year Streak-Free Guarantee
On All House Washing and Roof Cleaning Services
Benefits For You to enjoy
Cleaning a metal roof is best left to the professionals
Metal roofs are another great roofing material that have stood the test of time.  The main downfall to a metal roof is that over time, after being exposed to the elements, they will oxidize.  Oxidation is that chalk-like mess that gets on your finger after you've run it across an oxidized metal.  As you can see in this "before" and "after" example to the left, the "green" roof turned a grey-green color after being in the elements for 20 years.  You can see in the lower left corner of the "before" roof, the test spot we did for the client.  As you can see in the "after" photo, after getting all that oxidation off, the original color green is back and the roof will go on protecting the people who live here for many years to come.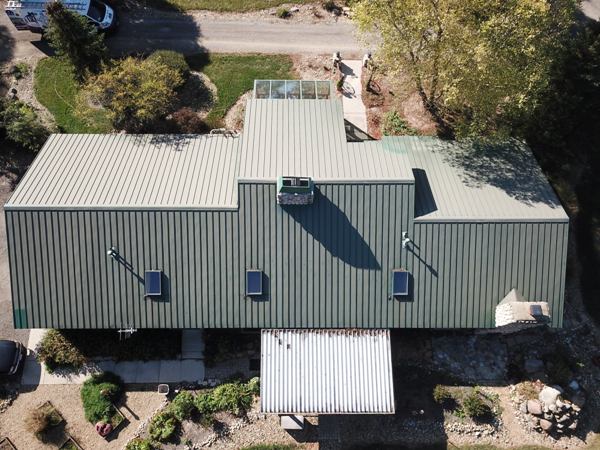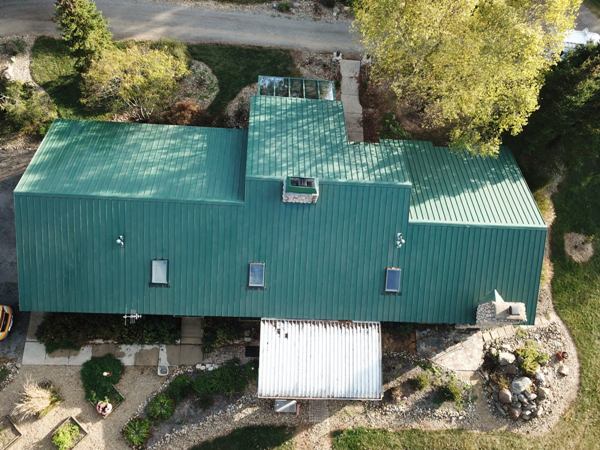 We mainly provide specialty roof cleaning in Columbus, OH and the surrounding areas. We have gone to other cities and states to do projects as well, New Hampshire, Chicago, Michigan, Indiana, West Virginia, Kentucky, and Tennessee to name a few.  It just needs to make sense for all involved. If you have a project outside of our immediate service area, please give us a call to discuss!  (888) 516-0008
View Some of our Metal roof cleaning projects
Get Metal Roof Cleaning In 3 easy steps
What Your Neighbors Have Been Saying
Metal Roof Cleaning in Columbus
Forza Roof Cleaning did an excellent metal roof cleaning job for me. Results were outstanding. This company went above and beyond my expectation with taking care of our roof issues wile being careful with landscape. Great crew, great job! Thank you
Metal Roof Cleaning Columbus OH
Forza Roof Cleaning did an excellent metal roof cleaning and pressure washing my sidewalk. It turned out so well that had them return to do the driveway cleaning. Dwayne and his son were very polite and I would recommend them to anyone.
Metal Roof Cleaning Columbus
A very good metal roof cleaning experience working with Forza. They communicated well and got everything done when they said they would. It's always a great feeling when a contractor is honest and punctual. Would definitely recommend without hesitation!
Learn About all of Our Specialty Roof Cleaning Services
Frequently Asked Questions
Absolutely, it can be cleaned.  We use a proprietary blend of algaecides, fungicides and detergents to safely and effectively remove the bio-stains that find their way onto a metal roof.  We don't use pressure to clean.  Our process is as gentle as a spring rain.  Pressure only scalps the bio, it doesn't kill it.  Ultimately, it just spreads it around where it can grow and spread even more.  Our process sanitizes the surface, eradicating any bio that might be living on it.  It's safe, gentle and extremely effective.
Yes, we carry liability insurance, vehicle insurance and workers comp insurance.  Thankfully, we've never had an issue but if something ever does happen, you can rest assured that our insurance has you covered!
99% of the time we can clean your roof from the safety of our ladders.  It's not because we're afraid or uncomfortable but it's in the best interest of the roof to keep foot-traffic to a minimum.  No matter how careful you are, every time a person steps on a roof, they take a chance on hurting the roof or worse, themselves.  We stay off the roof as much as we possibly can.  On that rare occasion that we would need to get on your roof, we have specially designed shoes to help us grip to the roof without causing any damage to it.  Couple that with the proper PPE and we have what t takes to safely clean your metal roof.
Ready To Restore Your metal Roof?